Stirling screening marks Braveheart film anniversary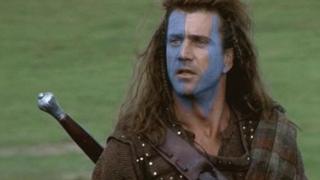 A special screening of the film Braveheart is to be held in Stirling to mark 20 years since it was released.
Mel Gibson's biopic of William Wallace won five Academy Awards, including best picture and best director.
Tourism bosses believe it has been responsible for more than one million visits to the Wallace Monument and the wider Stirling area.
A screening is to be held at the MacRobert Arts Centre, where the film's European premier was shown in 1995.
A survey undertaken by Stirling District Tourism recently found that 35% of participants identified Braveheart as an influence on their decision to visit the Monument, which itself was opened in 1869.
Ken Thomson of the tourism group said the film had a "huge impact" on Stirling and the area as a whole.
Mr Thomson said visitor numbers at the Wallace Monument more than doubled, from about 80,000 a year to 180,000, following the release of the film, and he said its appeal has proved lasting.
He said: "That's one of the amazing things about Braveheart, because very often film tourism is a fairly short-lived impact.
"But here we are 20 years later and people are still driven to come here with an interest in Wallace stimulated by the film.
"We believe at least a million visitors to Stirling have come here as a result of the film."
'Fighting injustice'
Mr Thomson said the issues addressed in the film still resonate with viewers today.
He said: "So many people identify with Wallace and recognise exactly what he was doing.
"He wasn't just leading the campaign from a political perspective; he was fighting injustice, discrimination and poverty, he was addressing inequality, and so many people in so many parts of the world can identify with those campaigns, which are still so important today."
Prof Neil Blain from the University of Stirling said that while there were "difficulties" with the historical accuracy of the film, Scottish viewers largely seemed able to forgive this.
He said: "It came out in 1995, in the decade which was in the process of delivering devolution, and 20 years on we see it against a background of changed politics in a different light.
"It's a film that rather insists on being related to Scottish politics in some way or another.
"I imagine it played its part in what has been a reawakening of Scottish identity.
"Probably it gave the Scottish audience a renewal of awareness about a very important national figure. Wallace is an immense European figure, historically.
"There have been polls since where it's been voted the most popular film about Scotland by Scottish viewers.
"The evidence has been that people have been willing to forgive it for these distractions from real history and enjoy it as a good film."