200-year-old Carnoustie Dibble Tree set to be protected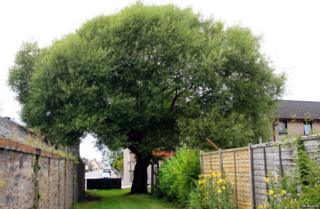 A willow tree which is more than 200 years old looks set to be made subject to a tree preservation order - after an 18-year battle by residents in Angus.
The 30ft (9m) "cricket bat" willow is sandwiched between a back lane and a disused public toilet in Carnoustie.
The tree is said to have grown from a garden planting stake, or "dibble", left in the ground on a piece of coastline.
The present town grew up round the tree.
The town's name is said to derive from the Scottish phrase craw's noustie, or crow's nest, after the birds which nest in Dibble Tree once a year.
Lightning strike
Locals record that the willow took root in 1797 when an itinerant shipwright and salmon fisher left his dibble in the ground.
Thomas Lowson, then known as Tammas Lousen, decided to settle down and after time the tree became a symbol of the newly-founded town.
Willows are not normally expected to live for more than 150 years but Carnoustie's Dibble Tree survived a 19th Century lightning strike that split its trunk almost to the roots.
The tree has never been protected by a conservation order and Angus councillors will now be asked to approve one this week.
The order was suggested by Angus provost, Helen Oswald, who said: "It's such an integral part of how Carnoustie came to be.
"It would be a tremendous shame to see it damaged or taken down.
"We're a very young burgh with not much built heritage, so we have to protect everything that reminds us of where we came from.
Anniversary commemorations
Mr Lowson's great-great-grandson, Davie Lowson, now 94, was involved in the 200th anniversary commemorations for the tree in 1997.
Mr Lowson, who still lives in First Feu Cottage, named in commemoration of Tammas's founding role, said: "This was the first tree that ever grew in Carnoustie. Before old Tammas settled here, there was only a barren wilderness lying empty beside the sea.
"It's taken a lot of work to keep her alive, but every spring she still gives a beautiful display of leaves."
Davina Sturrock, 72, has lived in a cottage next to the tree for years, and was part of the committee formed to commemorate its 200th anniversary.
"Thank goodness something's being done about it at last to protect it officially," she said. "Two trees that were next to it have already been cut down."