New Seabraes railway bridge opens to public in Dundee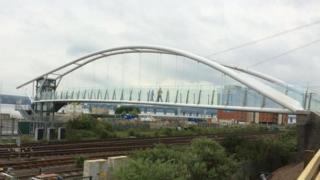 A new £3.5m pedestrian bridge over the railway line in Dundee has opened to the public.
The Seabraes bridge opens up a link from the West End and the Dundee University campus with the riverside.
The new bridge cuts out a 1.5km (0.9 mile) detour around the railway line which previously separated the areas.
Funding for the bridge was sourced from the Vacant and Derelict Land Fund, Dundee City Council and Scottish Enterprise.
The 54m bridge will have a formal opening ceremony with the Scottish government transport minister later in the year.