Letham Post Office boss Carol Oswald jailed for embezzlement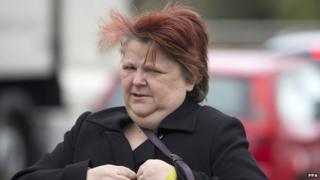 A Post Office manager who stole more than £100,000 from her work, a charity and an elderly friend has been jailed for more than three years.
Sub-post office boss Carol Oswald, 53, from Perth, spent the money on internet betting and claimed she was trying to win money to pay the business back.
She also stole more than £8,000 from the elderly post office owner and embezzled about £2,300 from a charity.
She had worked at Letham Post Office since the 1980s.
Perth Sheriff Court heard that as well as stealing directly from 81-year-old Jean Johnson, Oswald also left the pensioner liable for the £100,000 she had embezzled from the branch.
Solicitor Cliff Culley said: "The reality is that she wasn't capable of looking after the Post Office and it ran into financial difficulties.
"She had difficulties dealing with that and unfortunately gambled money in the hope that the winnings would resolve the financial difficulties.
"That gambling took the form of small bets, up to £100 at a time, on the internet."
He added: "The money was taken from the Post Office account and put into her account and she gambled it. She just felt totally out of control.
"It wasn't a sophisticated, pre-planned fraud. She was out of her depth.
"She wasn't funding an extravagant lifestyle. She didn't have holidays. She lived in fear of being found out and it was inevitable she would be found out."
Oswald had been taking money to fund her online gambling debts for almost five years before she was caught. An investigation found that thousands more had gone missing.
She was found to have conned an environmental charity in the local housing estate where she had been a well-known and trusted pillar of the community.
She had been handpicked by the local residents association when they formed the Letham Climate Challenge charity to help set it up as a registered charity pursuing green initiatives for the community.
Oswald had been asked to set up a bank account for the charity but it emerged she had kept the tax payments she was due to make on its sole employee's behalf.
Position of trust
Oswald admitted embezzling £100,000 from Letham Post Office while she was in a position of trust as manager between 1 January 2008 and 6 December 2012.
She further admitted embezzling £2,367.36 from the Letham Climate Challenge while she was in a position of trust as a trustee of the charity.
Oswald also admitted stealing £8,059.80 belonging to Mrs Johnson at her own address and a house in Harley Place, Perth, between 7 October 2010 and 3 December 2012.
The court was told Mrs Johnson had owned the sub-post office and had trusted her friend and colleague Oswald to take over when she became too frail to run the business.
Oswald helped herself to thousands of pounds from Mrs Johnson's personal bank account.
Jailing Oswald for three years and four months, Sheriff Lindsay Foulis said: "Your actions placed the old lady under a cloud of suspicion. All these charges - which covered five years - displayed a very significant and clear breach of trust.
"They resulted in very significant sums being misappropriated by yourself. The problem with people who embezzle is that they don't think of anyone but themselves."