Ospreys return to Strathallan T in the Park site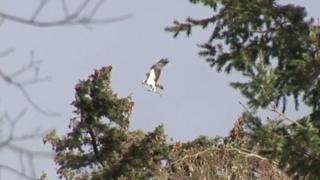 Ospreys have returned to the proposed site of T in the Park festival at Strathallan Castle.
Festival organisers and RSPB Scotland have pledged to work together to safeguard the protected birds.
DF Concerts hopes the ospreys will settle at a new nest further away from the festival site, but accepted that the old nest was now "active".
A spokeswoman said the group was confident the event could still take place at Strathallan.
Consultations are ongoing over a planning application to host the annual music festival at the estate, which has drawn a mixed response from locals.
Ospreys are a protected species and cannot be disturbed while nesting. Police were called to the site on Monday and are monitoring the situation.
DF Concerts had hoped to encourage the birds to move to a specially-constructed new nest further away from the festival site, having been unable to gain access to remove the old nest entirely.
'Active nest'
However, the group's tactic of flying a flag from a cherry picker near the old nest was criticised by nature groups and local campaigners.
RSPB Scotland called in the police after video footage of the birds returning emerged on Monday, stating that the nest was now "active", and the cherry picker was later removed.
The group has pledged to work with the festival organisers on measures to prevent the birds from being disturbed.
A spokeswoman for DF Concerts confirmed that the migratory birds had returned, but denied that they had yet settled on a nest.
She said: "We can confirm that ospreys have returned to Strathallan, but the expert opinion of our ornithologist is that they have not yet nested.
"The RSPB believes that the previous nest is active and as such, close monitoring via the cherry picker has been removed and we will continue to liaise with the relevant organisations to ensure the protection of the birds.
"In the meantime, we'd also like to assure fans that the festival will go ahead. The decision on our planning application will still be made in May and we remain confident that the event will take place at Strathallan."
Tickets have already been sold for the festival, planned for 10-12 July and set to feature bands including The Libertines, Kasabian and Noel Gallagher's High Flying Birds.