New consultation begins on T in the Park move plans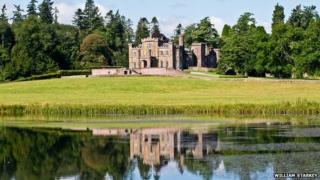 The second consultation on T in the Park's proposed move to Strathallan Castle has begun after new information was submitted to Perth and Kinross Council.
The authority had requested an addendum to DF Concerts' original application, which has now been validated.
The first consultation drew a mixed response from the public.
A spokeswoman for DF Concerts said the new documents "thoroughly answer" questions raised by the original plans.
Perth and Kinross Council had requested additional information from the event organisers "to address issues raised" in consultation on the plans lodged in January.
Subjects covered in the addendum include wildlife, from badgers and bats to red squirrels and otters, flood risks and traffic management at the event.
The first 28-day consultation drew a total of 523 public comments, 274 opposing the plans, 240 supporting them and nine neutral.
Much of the new information centres on how organisers plan to protect local wildlife.
Updated protection plans for bats, badgers, red squirrels and otters have been submitted, although the documents note that there is no sign of current use at the potential otter holt or the badger sett identified in the area.
A total of 12 bat roosts and six squirrel dreys are present at the festival site, with "precautionary measures" put in place to protect them.
A spokeswoman for DF Concerts said the group had taken a "worst-case scenario approach" in assessing every possible impact on local wildlife.
She said: "Positive strategies are in place for all of the relevant species, and we've submitted updated species protection plans that will work not just this year but for many years to come.
"Our aspiration is not just to mitigate but to spend time and finances helping to improve and safeguard the site's environment over the long term."
Osprey nest
Efforts have also been made to relocate an osprey nest near to the site.
A new nest has been constructed, with the birds expected to migrate back to the area in the coming days, but efforts to encourage the ospreys to avoid the original nest by flying a flag from a cherry-picker came in for criticism from nature groups.
The Woodlands Trust Scotland - which has launched a petition urging the festival to be held elsewhere - said it was "alarmed" by the move, while a spokesman for RSPB Scotland said it was "not an example of best practice".
He said: "All this last minute activity doesn't strike us as a very good strategy to approach looking after wildlife.
"We would have preferred to see this resolved months ago, frankly.
"For our part we would absolutely wish to see a successful nesting attempt by the ospreys this year, whether it's at an old nest or the new one, that's our concern."
A spokeswoman for T in the Park said this was not an attempt to "scare" the birds, but to "gently encourage them to fly to the new, specially-built nest".
She added that the group had ornithologists on-site monitoring the situation.
Updated plans to deal with flood risks, which had earlier prompted the Scottish Environment Protection Agency to withdraw its objection to the application, are also included in the addendum, as is an updated traffic management plan.
Data from the postcodes of people who have already bought tickets for this summer's event have been used to draw up a more detailed picture of traffic around the event.
A spokeswoman admitted that the original traffic plan had been written from an expert perspective and "was not necessarily accessible enough for public reading".
She added: "An updated traffic management plan has been submitted to provide a clearer understanding of how the traffic flows and routes are likely to operate during the festival.
"This plan has been developed by one of the country's top traffic experts, who have successfully designed and managed plans like this many times, and they have taken input from Transport Scotland, BEAR Scotland, PKC Highways and Police Scotland."
Comments on the new information can be submitted via the council's planning portal website. Further details are also available via DF Concerts' local information page.
The council aims to make a final decision on the plans in May.