Nature groups hit out at T in the Park Strathallan plan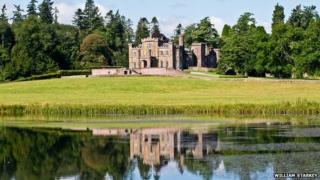 Two nature groups have hit out at plans to move the T in the Park music festival to Strathallan Castle.
The Woodland Trust Scotland warned of an "appalling" impact on wildlife, while RSPB Scotland warned time was running out to relocate osprey nests.
However, neither group has submitted a formal objection to Perth and Kinross Council, which is to hold a second 28-day consultation on the plans.
Festival organiser DF Concerts it would "robustly address" all concerns.
The group is expected to submit additional information requested by Perth and Kinross Council this week, before a second public consultation is held.
The Scottish government expects the council to make a decision on the planning application within four months of it being validated on 20 January.
'Unacceptable disturbance'
Charles Dundas of the Woodland Trust Scotland said holding the annual festival at the Perthshire estate, which is surrounded by "irreplaceable ancient woodland", would result in "an unacceptable amount of disturbance" to threatened wildlife including ospreys, otters, red squirrels and bats.
He said: "T in the Park is a very popular event and we are not against it taking place. However, it's important to consider the danger posed to the environment by relocating it as proposed.
"Holding T in the Park at Strathallan Castle will have a huge annual effect on the wildlife that the woodland surrounding the site supports.
"Disturbance on this scale from noise and artificial light within ancient woodland will have an appalling and cumulative impact on wildlife every year. We believe that Strathallan Castle is an unsuitable location and urge Perth and Kinross Council to reject the application and for DF Concerts and Events to look for an alternative location for T in the Park."
Despite voicing their opposition, the Woodland Trust Scotland did not submit a formal objection to the planning application, claiming they had missed the deadline due to a "misleading closing date".
RSPB Scotland meanwhile chose not to formally object to the plans last month, despite voicing disappointment with DF Concerts' approach to mitigating the festival's impact on bird life.
The organisation has now said that "time is running out" to move an osprey nest, describing DF Concerts' approach as "appearing poorly organised and unprofessional".
Plans were formulated to move the osprey nest several hundred metres away, a procedure which has been successfully carried out on a number of occasions for safety reasons, but a spokeswoman said it was "of real concern" that no work had yet been done.
She said work would need to start in the coming days to ensure it is complete by the time the birds complete their migration, with some ospreys already arriving at nests in the south of the country.
She said: "The details of how T in the Park will avoid harming wildlife should have been sorted out many months ago.
"If it was well planned, there is no reason why T in the Park shouldn't be able to happen at this site and result in no overall harm to wildlife - but we have yet to be given anything like the reassurances we need.
"Frustratingly, even though many of the music fans who go to T in the Park will also be fans of wildlife, it seems that giving Scotland's nature a home is at the bottom of the promoter's priority list."
The first public consultation on the plans drew more than 520 responses, balanced between 274 opposing the move, 240 supporting it and nine taking a neutral position.
A second 28-day period for comments is now to be held, after Perth and Kinross Council requested additional information.
DF Concerts said it was "standard" procedure for extra information provided to consultees - such as that which saw the Scottish Environment Protection Agency withdraw its opposition to the plans - to then be forwarded to the planning authority as an addendum.
'Constant engagement'
A spokeswoman for DF Concerts said there had been "constant engagement" with the RSPB throughout the planning process, and said the group would "robustly address" any questions raised through the consultation.
She said: "The Woodland Trust has made no formal representation to Perth & Kinross Council about T in the Park's relocation despite there being ample opportunity to do so. Therefore, we're assuming that they have not read our environmental statement which would answer many of their questions.
"As always, litter control will remain a major part of our planning activity for the festival and as is standard, we'll ensure that a great deal of time and finance is dedicated to ensuring that any debris is removed from the site quickly.
"We're also confident that we can robustly address all of the ecological and habitat questions raised by any of the statutory consultees."
She added: "We have been in constant engagement with the RSPB throughout this process and the feedback has been that they are comfortable with our strategy.
"Our mitigation plan is being carried out by a recognised ornithologist who is an expert on this protected species. The timing of works has been based on his advice."