Workman was crushed to death after 'unsafe practice'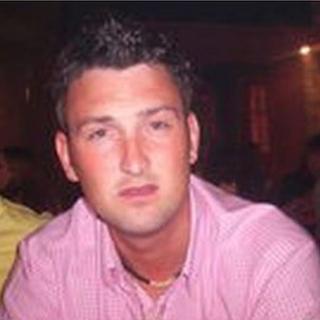 A workman was crushed to death by a road-roller because safe working practices were not observed, a fatal accident inquiry has concluded.
David McClorey died after being trapped between his digger and the roller as he worked on a new power line near Kinbuck, Stirlingshire, in April 2012.
The 31-year-old, from Stranraer, died at the scene after a fuel exchange operation went wrong.
A sheriff ruled that there had been "a defect in the system of working".
Mr McClorey was working with a colleague, Paul Cooper, on access tracks for the Beauly to Denny power line when the incident occurred on 11 April 2012.
Mr McClorey's digger had run out of fuel and, as there was no extra fuel on site, the pair decided to siphon some across from the tank of the road-roller.
However, as Mr Cooper, 44, reversed the roller close to the digger to carry out the exchange, Mr McClorey was trapped between the machines and suffered blunt force trauma injuries.
An air ambulance was scrambled to the scene while Mr Cooper administered CPR, but the workman was declared dead at the scene.
'Inherently implausible'
During the four-day inquiry, Mr Cooper told Stirling Sheriff Court that the excavator was positioned close to a "lip" in the track, about 10cm to 19cm high, where one section of track met another.
He said he had kept "constant eyesight" on his workmate until he gave him a "high five" signal to stop, but lost sight of him as he turned to put the machine in the stop position. He said there was a "slight movement" as the roller "kind of rocked backwards, as if it had come off the edge of the stones".
He then found Mr McClorey lying face down on the ground, and said that he must have moved between the machines after signalling for him to stop.
However, in his written judgement, Sheriff William Gilchrist said this was an "inherently implausible" account, which would have involved Mr McClorey "jumping into a gap of less than a metre and closing".
He said: "The likeliest scenario is that Mr McClorey was standing between the machines, guiding Mr Cooper's reversal of the roller.
"He was in a position he should not have been in if the reversing manoeuvre had been carried out safely.
"To complete this manoeuvre safely required that he would not be positioned between the two vehicles until both were stationary with their engines turned off. This clearly did not happen.
"There was a defect in the system of working which contributed to the accident resulting in the death, namely that the reversing operation was not conducted in accordance with normal safe practices."