Abertay University hosts cyber-security conference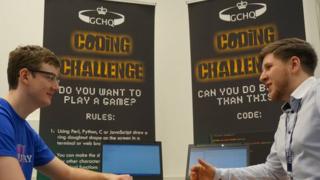 Scotland's largest cyber-security conference is being hosted at Abertay University in Dundee.
The Securi-Tay conference was organised by students on the ethical hacking course at the university, and supported by the national intelligence organisation GCHQ.
Up to 300 delegates from education, industry and law enforcement are expected to attend.
Experts will discuss the latest security threats and technology.
Subjects on the agenda include the problems of wearable technology such as smart watches, techniques to hide malicious software from anti-virus programmes, and weaknesses in online point of sale systems.
Cyber defences
The one-day event also features a number of security challenges, including a hacking challenge and a head-to-head programming challenge from GCHQ.
A spokesman for the government agency said: "We see talented graduates and successful university programmes as an essential part of helping secure the UK's cyber defences."
Colin McLean, the tutor who founded the ethical hacking degree programme at Abertay, added: "There is high demand for our highly skilled ethical hacking graduates.
"Information security is a critical part of running a successful business and in safeguarding the UK against cyber terrorists and malicious hackers.
"It has never been more important to train people in these skills, and the students organising Securi-Tay have once again done a great job attracting internationally renowned speakers and sponsors."