Scottish Water fined after fish killed by chemical leak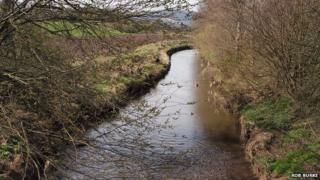 Scottish Water has been fined after it accidentally polluted a river, killing nearly 5,000 fish.
The body admitted polluting several kilometres of the River Farg with aluminium sulphate after an employee left a valve open at a water treatment facility in Perthshire.
Perth Sheriff Court heard that virtually all the trout and salmon in the vicinity at the time were killed.
The corporation, which is owned by the Scottish government, was fined £8,000.
The River Farg is a tributary of the River Earn, which itself feeds into the Tay.
Dunfermline-based Scottish Water admitted a charge of killing approximately 4,900 fish and other organisms in the river on 13 and 14 May last year.
Water acidity
An employee at the Glenfarg Water Treatment Works at East Blair Farm left a valve open, allowing water to flow into the aluminium sulphate tank. That tank then overflowed, flooding a corridor and draining into the River Farg over a period of several hours.
Aluminium sulphate increases the acidity of water, which is harmful to aquatic organisms.
Although alarms were sounded, the problem was only discovered when the Scottish Environment Protection Agency started getting calls from members of the public who reported the river appearing "white and milky" up to 6km (3.7 miles) downstream.
Inspectors from the Scottish Environment Protection Agency (Sepa) found that thousands of fish, including trout, salmon, lamprey, eels and stickleback were killed along several kilometres of the river.
The court was told that members of Scottish Water staff thought the alarms were being caused by power cuts which had affected the site.
'Significant changes'
The statutory corporation admitted carrying on a controlled activity liable to cause pollution of the water environment, namely by discharging aluminium sulphate into the River Farg.
A Scottish Water spokesman said: "Scottish Water apologises for this incident and the impact it had on the local environment.
"We accept the ruling and fine issued at Perth Sheriff Court today.
"We take our environmental responsibilities very seriously and we took immediate steps to make significant changes to processes and equipment at this site so the local environment is protected in future."