Call for Audit Scotland investigation over V&A cost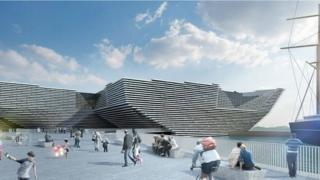 A Dundee councillor has called on Scotland's financial watchdog to launch an urgent investigation into the cost of the city's V&A museum.
It emerged on Friday that the price of the project has risen to £80m.
Dundee City Council is carrying out an internal inquiry into the increase from the original budget of £45m, which was most recently revised to £49m.
Liberal Democrat councillor Fraser Macpherson has called on Audit Scotland to carry out their own investigation.
The West End councillor has written to the watchdog asking them to mount a probe, alongside the "comprehensive review" promised by council chief executive David Martin.
Culture secretary Fiona Hyslop has rejected calls for a government inquiry into the price of the design museum.
Project bosses said inflation in the building industry, along with the complex design of the building and the fact only two building firms bid for the contract were behind the increased price tag.
City development director Mike Galloway said the vastly increased cost had taken building contractors who had been advising the council by surprise, as well as project leaders.
The council's policy and resources committee will be asked to sign a fixed-price tender with BAM Construction for the work next week.
If approved, work could start at the waterfront site before the end of March, with the museum opening to the public by the summer of 2018.
However, any delay could see work postponed for six months due to the seal pup season in the Tay, which would have a knock-on effect on the completion of the building and subsequently the opening date.
Project leaders hope to secure a further £4.5m in funding from the Heritage Lottery Fund, £6.5m from the council's capital budget and an eight-figure sum from the Scottish government, which has already pledged an extra £10m.
'Significant increase'
Conservative MSP Alex Johnstone called for an "unequivocal guarantee" that the additional money pledged would be adequate to complete the project.
Ms Hyslop told him the fixed-price deal the council hoped to secure with BAM should give people confidence the project will be delivered successfully.
She said: "In terms of the certainty that he is looking for, that has been part and parcel of the discussions that have been taking place in relation to the contract to try to make sure that we get the best fixed price that was possible.
"In terms of committing Scottish government money, we will be making sure that we are confident that the proposals and the figures - which are obviously a significant increase on what was the original estimate before tenders went out - could be realised and give people confidence that this project can go ahead and indeed will be successful."
Ms Hyslop also said an inquiry would cause unnecessary "uncertainty", following a call from Labour MSP Claire Baker for an inquiry into the rising costs.