Application lodged for T in the Park Strathallan move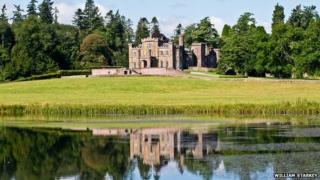 A planning application for the T in the Park festival's proposed move to Strathallan Castle has been lodged with Perth and Kinross Council.
The application and an environmental impact statement were filed with the local authority.
The proposed move, which would see the festival held at Strathallan annually, has drawn opposition from some local residents.
A 28-day consultation period has begun, ahead of a decision expected in April.
DF Concerts is moving the festival from its home of 17 years at Balado after fears were raised about an oil pipeline running under the site, near Kinross.
The grounds of Strathallan Castle were chosen as the preferred location from more than 100 potential sites, from the north of England through central Scotland.
Scottish ministers ruled that a full planning application had to be submitted to Perth and Kinross Council, along with an Environmental Impact Assessment.
Public meetings were held in Auchterarder and Crieff to canvass opinions over the move, drawing a mixed response from locals.
A survey of attendees found 49% of respondents were strongly supportive of the festival moving to Strathallan, while 20% were opposed to it. A further 17% were quite supportive of the move, while 13% were undecided.
The site contains watercourses which drain into the River Earn and on to the River Tay, a designated conservation area for Atlantic salmon, as well as habitat suitable for osprey nesting.
'Minimal disruption'
Festival director Geoff Ellis said locals would have the opportunity to review the full application during the consultation period.
He said: "We're confident that it successfully demonstrates how we plan to deliver a high-quality event at Strathallan, for one weekend every July, with minimal disruption and exceptional long-term and far-reaching benefits - including a rise in tourism, excellent opportunities for businesses, economic growth and future security for Strathallan Estate.
"We'd like to thank everyone that has helped us to get to this stage - whether you met with us individually or attended the public consultation meetings.
"We have listened to your questions and feedback and this has informed the final document and should answer any questions you may still have about the event."
The festival is scheduled to run from Thursday 9 July to Monday 13 July, and some tickets have already been sold.