Plan launched for major new barite mine at Duntanlich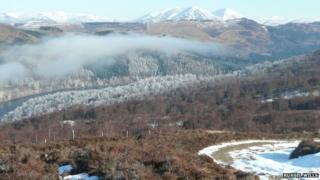 Proposals have been launched for a new barite mine near Aberfeldy.
Duntanlich, to the north of the Perthshire town, is the only significant mining spot for the mineral in the UK which is economical to work.
Oil field services company M-I Swaco has proposed opening a new mine to replace their existing one at Foss, which has operated since 1985.
About 30 skilled jobs could be directly created for local workers by the project.
Barite is a mineral consisting of barium sulphate used in a number of industrial production techniques, most commonly in the drilling of wells in the oil and gas industry.
The deposit at Foss has a complex geological structure which makes it difficult to mine - making the process more expensive.
Meanwhile, the site at Duntanlich has a resource of more than 7.5 million tonnes of barite, which could supply the whole of the UK's requirements for more than 50 years at planned production rates.
'Careful design'
M-I Swaco has entered into pre-application negotiations with Perth and Kinross Council about the site.
A planning application to develop the same resource was rejected in 1996, but Ian Hughes, project manger for the firm, said three years of environmental studies had informed a "careful design" of the latest proposal.
He said: "Such a project will not only have a significant local economic impact, diversifying the economy of this rural area where employment is reliant on tourism and forestry, but will also have national significance in terms of providing vital continuity of supply for the North Sea oil and gas industry.
"We have learned a lot from the time of the previous application and have made significant adjustments to our proposals."
M-I Swaco is aiming to submit a planning application for the mine in the spring, with a view to starting production in late 2017.
Consultations will be held with local communities in Ballinluig, Aberfeldy and Pitlochry in February.