Luxury resort fined £10,000 over worker's pit fall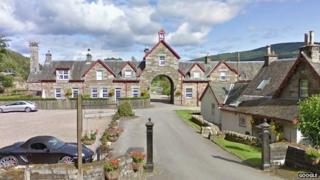 The owners of a luxury holiday estate in Perthshire have been fined £10,000 after a waitress fell into a 15ft (4.5m) deep pit.
Emma Martel sustained serious injuries while working at the Mains of Taymouth holiday resort in July 2012.
The 30-year-old Australian national suffered a fractured spine, and was left scarred for life in the fall.
The family owners of the complex admitted criminal responsibility for the incident and were fined.
In a hearing at Perth Sheriff Court, D Menzies and Partners admitted breaching health and safety regulations by failing to take the necessary steps to protect staff.
Miss Martel was working as a housekeeper and waitress at the five-star resort near Kenmore as part of a career break gap year along with her sister Natalie.
Fractured spine
She was unaware that the pit had been dug out so materials could be used for landscaping work, and proper protective barriers had not been put in place.
After attending a barbecue for her sister's birthday, Miss Martel fell into the unlit pit while taking a short cut home.
She was removed from the pit by firefighters using a long board, and required several months of total care. She was left with a 15cm (6in) scar on her back and an 8cm (3in) scar on her bottom, and has since returned to Australia.
The court was told D Menzies and Partners employed 60 people and made a £500,000 profit during the year ending 2013.
Sheriff Lindsay Foulis said: "There was a requirement people needed to be kept away from the pit to avoid the risk of falling, slipping or tripping.
"Clearly that should have been done by the provision of adequate fencing, lighting, or a combination of both."