Lorry driver in court over 88-year-old woman's death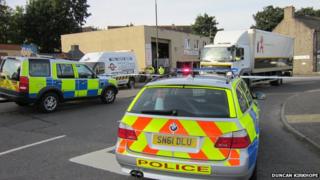 A lorry driver has gone on trial charged with causing the death of an 88-year-old woman by careless driving.
Stephen Hendry is accused of causing the death of Agnes Brzezina by repeatedly running over her in a box van in Bonnybridge in September 2013.
The 56-year-old, from Port Glasgow, denies the charge.
Mrs Brzezina suffered serious injuries in the alleged incident outside the WH Tyres depot, and had her legs amputated before dying eight days later.
Depot owner William Hughes, 57, told Stirling Sheriff Court the 7.5 tonne truck had been collecting tyres on 26 September when he heard someone shouting "get an ambulance".
He found Mrs Brzezina, who walked with a stick and had poor sight and hearing, lying underneath the vehicle.
An agreed minute of evidence at the court stated that Hendry was driving the lorry at the time.
Mr Hughes said: "I told her to lie down and wait for the ambulance to come. I knew she was severely hurt. I saw lots of fluid and it turned out her leg had been squashed.
"I did some nursing some years ago and did some basic first aid."
Mr Hughes said he fashioned a tourniquet from a piece of blue rope and a spanner to stem the flow of blood from the pensioner's leg, and sat with her until the ambulance arrived 15 minutes later.
Paramedics took her to Forth Valley Royal Hospital, where she had both legs amputated in emergency surgery before dying from her injuries.
'Angry and unhelpful'
Mr Hughes said Hendry had seemed "angry" prior to the incident.
He said: "I have known him for some years now, and I have always found him quite an angry and unhelpful person."
He added that Hendry's vehicle had been moving "in my opinion faster than it should have been".
However, eyewitness Mark McManus, 30, a delivery driver for another tyre company, said Hendry had been driving "in an everyday manner", adding: "It didn't seem to be reckless."
Jurors were shown CCTV footage of the incident, which happened at 13:12.
Traffic examiner Beverley Stoner, from the Driver and Vehicle Standards Agency, said analysis of the tachograph showed a "significant spike" in speed - up to 12kph (7mph) and back down again within seven seconds - not long before the accident.
Hendry denies manoeuvring his Mercedes box van without keeping a proper lookout, striking Mrs Brzezina and repeatedly driving over her.
The trial, before Sheriff William Gilchrist, is expected to last several days.