Firefighters tackle Dundee Christmas shop blaze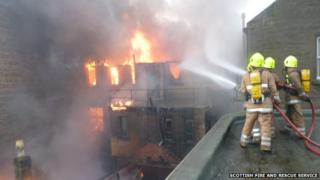 About 50 firefighters tackled a major blaze at a Christmas shop in Dundee city centre.
The emergency services were called to the scene at Murraygate shortly after midday.
Surrounding streets were closed off by police as festive shoppers gathered to watch. No-one was injured.
The blaze, which began in an electrical cupboard, was brought under control at about 18:00, but crews remained at the scene "dampening down" hotspots.
Scottish Fire and Rescue Service incident commander, Kenny Fraser, said: "Our firefighters were faced with a challenging and rapidly developing fire within the main shop and their priority was to ensure that no staff or customers were at risk and to save as much of the building as possible whilst prevent it spreading to adjacent premises within the row of shops in the Murraygate area.
"Through the efforts of the firefighters the fire was successfully contained to the Christmas Shop building and although there has been extensive damage, the neighbouring businesses were protected."