Confusion as only half of Dundee village plan approved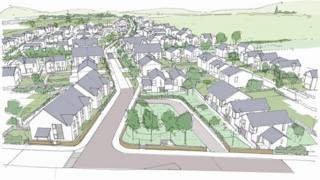 A planned village development on the outskirts of Dundee has been thrown into question after the city council only approved half of it.
Springfield Properties had to submit two applications for the village, totalling 595 new homes, as it spans land owned by two different parties.
Councillors on the development management committee voted against one application and in favour of the other.
Springfield said it would press ahead with building at the approved site.
Both plans for the proposed £150m village at Dykes of Gray Road in the city's Western Gateway were recommended for approval by council planning officers following detailed talks and consultation with locals.
Councillors considered two applications, one for 365 houses and a village centre incorporating shops and infrastructure to the north, and one for 230 houses and a village green to the south.
'Fantastic opportunity'
After concerns were raised by an independent councillor about the nearest schools being five miles away from the site, the first application was denied by a vote of 12 to 10.
However, after one councillor left the chamber and another arrived late to the meeting, the vote on the second application was tied at 11 each, and was approved on the convener's casting vote.
Councillors backing the village described the situation as "inexplicable" and "madness".
However, Springfield chairman Sandy Adam said the firm would start work at the approved site early next year, and would work with the council to see the full village completed.
He said: "This is a fantastic opportunity for Springfield, one we are very excited about.
"Whilst we are disappointed we didn't get planning for both applications, we are dedicated to working with Dundee Council to address points raised by the elected members and bring the full village planned for Dykes of Gray to fruition.
"Together, we are determined to get Dykes of Gray right, for the people of Dundee who need homes now and for all of those who will live at Dykes of Gray far into the future."