Fire crew rescue dog after Arbroath frozen pond fall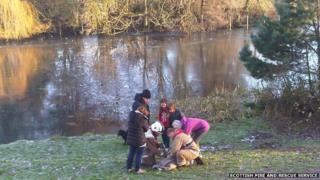 Fire crews rescued a dog which fell through ice while chasing a duck across a frozen pond.
The animal was plucked from the water by firefighters after falling through the thin ice in Arbroath on Saturday.
Crews used axes to break up the ice before wading in to rescue the animal, which was safely returned to its owners.
Station manager Fraser Scott issued a warning about the dangers of frozen waterways.
He said: "We would advise against walking on the ice and ensure that children and dogs in particular are kept well away from any iced over ponds or rivers.
"It's probably safer to keep you dog on a leash when passing any stretch of frozen water."