Driving ban for wrong-way motorway woman Carol Anderson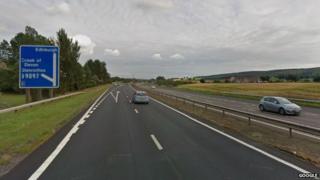 A woman was arrested at a job interview after she drove down the wrong side of the motorway for several miles to get there.
Carol Anderson, 30, was heading to Dobbies Garden Centre in Perth when she turned north onto the southbound carriageway of the M90.
Officers caught up with her and arrested her in the centre's car park.
Anderson, of Coaltown, Fife, was banned from driving for 12 months and fined £500. She was not offered the job.
Perth Sheriff Court heard that she had taken directions given by a friend "quite literally" by turning right onto the motorway at the Crook of Devon junction on 26 May.
She drove north for several miles down the overtaking lane of the southbound carriageway, before realising her mistake and performing a u-turn on the motorway.
Solicitor Paul Ralph said the episode had been a "sobering lesson" for his client.