New police appeal in search for missing Montrose woman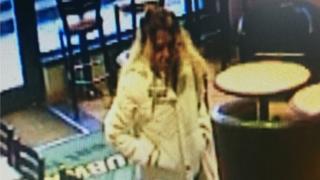 Police have issued a renewed appeal over a missing Montrose woman who has not been seen for more than two weeks.
Officers have been joined by search dogs, the Coastguard and the British Transport Police in an extensive search for Lorraine McRae.
The 51-year-old was last seen at Montrose Railway Station on Monday 3 November, although officers do not believe she boarded a train.
Ch Insp Gordon Milne said Mrs McRae's disappearance was "very worrying".
Police have made "extensive" inquiries in Montrose, Aberdeen and Peterhead, distributing posters and leaflets and going door to door searching for information.
Mrs McRae moved to a flat on Hill Street in Montrose from Aberdeenshire about a year ago, and was "well known" in the town.
Officers also distributed CCTV images of her at the Subway sandwich shop in the town on the day she was last seen.
Mr Milne said her disappearance was "totally out of character".
He said: "Lorraine has a daily routine that includes visiting Montrose Library, Lloyds the Chemist, the Montrose High Street Post Office and the Subway food shop. Indeed she was known to have visited these locations on the day she went missing.
"Police have spoken with numerous friends, associates and extended family members who are equally concerned as they have not seen or heard from her and it is very worrying indeed.
"With each passing day concerns for her welfare continue to increase and any information that can be provided is vital."
Mrs McRae is about 5ft tall, and of very slim build. At the time she was last seen, her natural dark brown hair was growing out, having previously been dyed blonde.
She was wearing a white jacket with a fur trimmed hood, blue skinny jeans and white trainers, and was carrying a light-coloured canvas hand-bag over her shoulder.