Man assaulted in front of children in road rage attack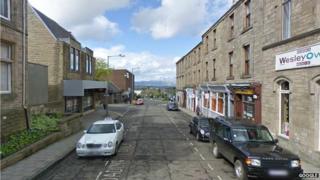 Police in Falkirk are investigating after a man was assaulted in front of his young children in an apparent road rage attack.
The 39-year-old was with his wife and three young children when he was involved in an altercation with the occupants of a red hatchback at the Garrison Place Roundabout on Sunday.
A short time later, the men from the red car attacked the victim on Glebe Street, punching and kicking him.
Officers have appealed for witnesses.
There was a brief verbal exchange between the men after the traffic incident, at about 14:30, before both cars drove off.
Shortly afterwards, the victim was shopping with his family on Glebe Street when he was attacked by the two men, who left him with a cut to his head before running off.
'Vicious assault'
PC Anthony O'Reilly said officers were keen to trace the suspects as soon as possible.
He said: "This was a vicious assault which has left a man injured and his onlooking children very distressed.
"We would urge anyone who saw the initial altercation at Garrison Place Roundabout or the subsequent assault on Glebe Street to get in touch."
The first suspect was in his mid 30s, tall and slim, with short brown hair. He was wearing blue jeans, a grey-blue jumper and white trainers.
The second man was in his early 40s, of heavier built and with short black hair. He was wearing grey jeans and a navy fleece with a white stripe across the chest.