Study finds Stirling freight trains cause 'major disturbance'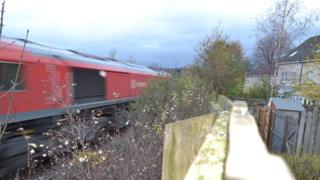 An independent report has raised "significant" concerns over noise levels from trains in Stirling.
Stirling Council commissioned a detailed study after complaints from residents along the Stirling-Alloa-Kincardine line.
A report from Sandy Brown Associates, consultants in acoustics and vibration, concluded that night-time freight trains were causing a noise nuisance.
The council is taking legal advice on what action could be taken.
The Stirling-Alloa-Kincardine line reopened in May 2008 having previously been disused for a number of years.
Resident complaints about noise and vibration from the trains increased sharply after freight trains, mainly delivering fuel to Longannet Power Station, began running at night in December of that year.
Stirling Council commissioned a report, which will be presented to the environment and housing committee on Thursday.
'Major disturbance'
Continuous noise levels measured in the study area were in excess of World Health Organisation guidelines, which advise night-time noise should not exceed 60 decibels (dB).
The study found noise levels "regularly reaching 85-90 dB" outside bedroom windows along the route. At properties on two streets, train noise exceeded 82 dB twice an hour.
The Sandy Brown report noted the "very high maximum noise levels" carried "a high probability of causing major disturbance to nearby residents sleep", and stated that reducing train speed even by half would not make a significant difference.
It concluded: "We believe the impact of night time freight train operations meets the criteria required to constitute a statutory noise nuisance."
Councillor Danny Gibson, convener of the committee, said: "Further independent legal advice is being sought at the present time so it is likely that this matter will be fully considered at our next meeting on 5 February once this advice is received.
"Councillors will then be able to decide how to proceed with this issue."