Body found in search for missing Royal Marine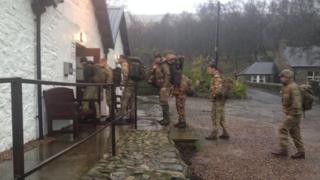 A body has been found in an air and ground search for a Royal Marine who went missing in the Cairngorms National Park.
Luke Ireland, 20, who was on leave from RM Condor in Arbroath, had gone walking and running in the Glen Clova area of the Angus Glens on Thursday afternoon.
His father raised the alarm two hours later after he failed to return.
Police confirmed that a body was found after an extensive search, and an operation to recover it is under way.
About 160 Marines joined police, Tayside Mountain Rescue, dogs and an RAF helicopter in an overnight search.
A total of 250 people joined the hunt over an area of 150 sq m, centred around the village of Clova.
Mr Ireland is understood to have hill survival skills but will have faced overnight temperatures of -11C, including wind chill.
Fellow Marines from RM Condor joined the search in the Glen Doll area after it resumed at about 04:30.
Mr Ireland had been visiting the Glen Clova Hotel with family before he headed off for a run towards Loch Brandy.
He was wearing a running vest and shorts, and has not been seen since.
Although a search and rescue helicopter was called, the bad weather has prevented it being involved in the operation. Three search and rescue dogs are on the hill.