Racer hit 100mph on A92 Dundee road with toddler in car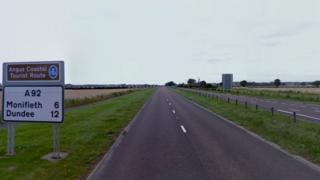 A driver hit 100mph while racing against a complete stranger with a toddler in the back of his car.
Nathan Myles took on Ryan Ross on the A92 between Carnoustie and Dundee, unaware they were being tailed by an unmarked police car.
When Myles, 23, was stopped, officers discovered his sister and three-year-old child were with him in the Audi A3.
Both men were banned from driving for 16 months after pleading guilty to dangerous driving.
The pair, who had never met before, tailgated each other and other motorists on the busy dual carriageway on 26 April.
Offshore technician Ross, 22, was driving a BMW, and the pair travelled at speeds of between 97 and 105mph during the five-minute race.
In addition to the driving bans, Myles, of Arbroath, was sentenced to 200 hours of unpaid work, while Ross, of Dundee, was fined £1,000.
At Forfar Sheriff Court, Sheriff Gregor Murray described the stunt as "five minutes of madness".
He told Myles: "Any person who drives like this with a three-year-old child in the car deserves all they are going to get."