Scots researchers in cystic fibrosis 'game-changer' study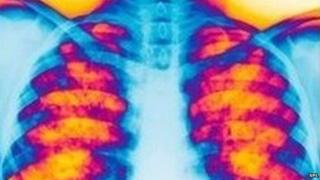 Researchers from Dundee University are part of an international team which may have made a major breakthrough in the treatment of cystic fibrosis.
A study by a team of scientists from Italy, France and Scotland found that a combination of two drugs reversed the key features of the disease in a small clinical trial.
The team now plan to carry out a large scale trial of the drug combination.
If successful, it could lead to a whole new approach to treating the disease.
In a study published in the journal Autophagy, the team showed how their combination of drugs affected the ten patients in the pilot clinical trial.
Combining already-licensed drug Cysteamine with epigallocatechin gallate - an antioxidant most commonly found in green tea - reduced inflammation in nine out of the ten patients' airways, and also dramatically reduced levels of salt in their sweat, another characteristic feature of cystic fibrosis.
'Early stage'
Dr Anil Mehta, a clinical reader at Dundee's medical research institute, has been working on the disease for more than 20 years and described the results are "extremely encouraging".
He said: "The results suggest that it might be possible to arrest the disease.
"Obviously we are still at an early stage but if these results are replicated in a placebo controlled clinical trial, then I believe it could be a potential game-changer."
Cystic fibrosis is the most common inherited disease in the UK, affecting more than 10,000 people.
One child in every 2,345 in Scotland is born with the condition, which mainly causes difficulty breathing and lung infections but also affects the liver, pancreas and intestines.