CCTV image issued in search for missing Montrose woman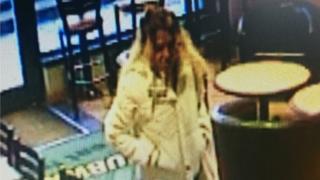 Police have issued a CCTV image of a Montrose woman who has been missing for a week.
Lorraine McRae was seen on camera at the Subway shop on the town's High Street on 3 November.
She was last seen on the southbound platform of the railway station at 17:00 that day, although police say she did not board a train.
Officers are "extremely concerned" for the 51-year-old's wellbeing after her "out of character" disappearance.
Mrs McRae moved to her flat on Montrose's Hill Street a year ago having previously lived in Peterhead and Aberdeen.
'Very worried'
When last seen she was wearing a white jacket with a fur-trimmed hood, blue skinny jeans and white trainers, and was carrying a light coloured canvas handbag.
She is about 5ft tall, of very slim build with shoulder-length brown hair which was previously dyed blonde.
Insp Gordon Milne said: "Seven days have now passed since Lorraine was last seen or heard from and we are now very worried about her.
"She has not been in contact with any of her friends that we know about, and has not been seen in any of the places she goes to on almost a daily basis.
"She is well known in the town centre and although not many people would know her name, they would recognise her instantly as she was always cheery and spoke in the passing."