Dundee Museum of Transport secures home at tram depot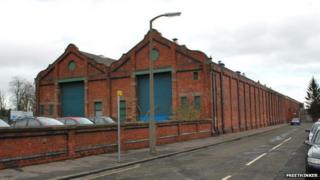 Dundee's new museum of transport has sealed a deal to move to its dream home in the city's Maryfield Tram Depot.
The museum group has been bidding to take over the B-listed building from previous owners Scottish Water for the past four years.
A funding drive will now get under way to renovate the depot.
The museum committee hope to relocate from its current premises on Market Street, which opened in April, by the end of 2017.
Built in 1901, the former city bus and tram depot by Stobsmuir Park had been on the market since 2005.
The current museum features classic vehicles including Dundee's last horse-drawn tram, which was recovered from a garden in Perth where it was being used as a summer house.
Museum chairman Jimmy McDonell said: "We are thrilled that we have succeeded in our mission to secure the depot for use as our permanent home, and we thank Scottish Water for making the right decision.
"The news also came on the day that we received a full-sized licensed replica of Chitty Chitty Bang Bang for a long-term display, so it puts meaning to the saying that good things come in twos."
Committee member Matthew Jackson added: "This is an exciting time for Dundee and our project, and we will be looking to consult with the local community as soon as possible to get the very best out of this excellent opportunity."
The Market Street museum will remain open throughout the development of the tram depot, and already has displays lined up for 2015.