Tom Weir statue plan for Loch Lomond banks on track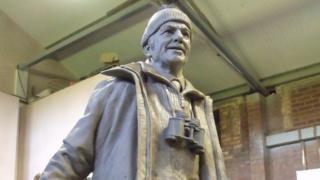 Plans are on track to unveil a statue of popular countryside broadcaster Tom Weir on the banks of Loch Lomond on the 100th anniversary of his birth.
A public appeal has raised £60,000 for a life-size likeness of the presenter of the "Weir's Way" television programmes from the 1970s and 80s.
Planning permission has been granted by the National Park Authority for the statue to overlook Balmaha Bay.
Broadcaster, writer and climber Mr Weir died in 2006 aged 91.
The project has been driven forward by the Tom Weir Memorial Group and the Friends of Loch Lomond and the Trossachs.
Susan Taylor, administrator of the memorial group, said she was "delighted" with the project's progress.
She said: "I can sleep more easily at night now, as we are within touching distance.
"The support we are receiving from thousands of people in Scotland and farther afield is remarkable.
"It is testament to the high regard that Tom was held in and reflects the the major impact he had in introducing generations to Scotland's great outdoors through his adventures."
A small-scale model of the statue was presented to Mr Weir's 94-year-old widow Rhona by sculptor Sean Hedges-Quinn last month.
The couple lived at Gartocharn at the southern end of the loch for many years.
Mrs Weir said she was "thrilled" with the level of detail on the statue, which comes complete with Mr Weir's famous woolly hat.
Mr Hedges-Quinn, a former model maker for films including Harry Potter and Skyfall, has previously created statues of famous football figures including Sir Alf Ramsay and Sir Bobby Robson.
The Friends of Loch Lomond and the Trossachs team is aiming to raise a further £15,000 to make improvements to the statue site, before embarking on a further project next year to renovate the rest of the Balmaha picnic area.
Mr Weir presented "Weir's Way" between 1976 and 1987, and wrote a monthly column in the Scots Magazine for 50 years.
The statue should be unveiled on the 100th anniversary of his birth, on 29 December.