Stirling club bouncer guilty of 'manky feet' assault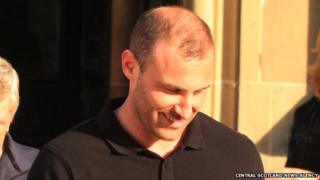 A bouncer has been found guilty of assaulting a woman while throwing her out of a nightclub on account of her "manky feet".
Danielle Kelly was left with cuts and bruises when she was "unceremoniously" ejected from Dusk nightclub in Stirling on 14 February after bouncer Michael Thom saw her with no shoes on.
The 30-year-old was also convicted of grabbing another woman by the throat.
Thom denied the charges, but was found guilty at Stirling Sheriff Court.
Ms Kelly, 20, told the court she had been instructed to sit in a booth at the club by another steward after she lost one of her high heels on the dancefloor, before Thom intervened.
'Manky feet'
She said: "He approached me and said my feet were manky, and I needed to get my shoes on or leave the club.
"He grabbed my by the arms and dragged me down three steps, and used my body to push through the fire exit onto an alleyway at the side of the nightclub.
"Because I was struggling he pushed me down onto a pile of stones. I got back up and he grabbed me again and chucked me back down and smacked me against a gate."
Ms Kelly's friends saw what was happening and followed, at which point Thom grabbed one of them, 19-year-old Amy Quinn, by the throat.
Ms Quinn was uninjured, but Ms Kelly was left with cuts and bruises on her knees, a cut on the bottom of her back, and a bruise on her arm where Thom had grabbed her.
Ms Quinn told the court: "He said she had manky feet and she had to get out."
'Lost temper'
Thom, a licensed steward, of Kirkcaldy, insisted Ms Kelly "never fell", and claimed she was drunk and argumentative.
He said he had told her she had to leave in case she cut her feet on the dancefloor, and said he had joked: "I can smell your feet from here".
Finding him guilty of assaulting both girls, both from Falkirk, Sheriff Kenneth McGowan said there were inconsistencies in Thom's version of events.
He said: "I think what happened here is that Mr Thom made an initial misjudgement in assessing the situation, and then he has lost his temper and committed these assaults.
"You pushed this lady out into an area where you had no idea what was underfoot - there could have been broken glass, anything."
He deferred sentence until next month for clarification of means so Thom could be fined, and ordered him to be of good behaviour in the meantime.