Man robbed in Dundee cathedral doorway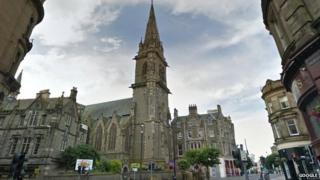 Police are investigating after a man was robbed in the doorway of a cathedral in Dundee city centre.
The 20-year-old was targeted at 16:00 on Monday afternoon by two thieves outside St Paul's Cathedral.
The suspects made off in the direction of the High Street.
One of the men was about 26 years old, 5ft 6in tall, wearing a red jumper and jeans. The other man was between 30 and 40 years old, 5ft 10in tall, and was wearing a white top and black bottoms.
The victim, who had been enticed into the doorway of the cathedral by his attackers, was left distressed but unhurt.
Officers have appealed for anyone who knows who these men are or who can help with inquiries to get in touch.