Armed Forces Day windfall for Stirling and Scotland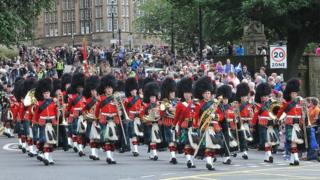 National Armed Forces Day celebrations hosted in Stirling boosted the Scottish economy by £2.3m.
The event held in the city in June saw over £1.5m spent locally, as more than 35,000 people flocked to Stirling.
And a council tourism study found a further £800,000 was spent elsewhere in Scotland.
The event included a large parade through the city by serving personnel and veterans, and demonstrations by Royal Air Force, Army and Navy units.
A report on the impact of the Armed Forces Day event is to be presented to Stirling Council's community and regeneration committee next month.
The day was attended by dignitaries including Princess Anne, Prime Minister David Cameron, First Minister Alex Salmond and senior staff from the armed forces and Ministry of Defence.
Stirling provost Mike Robbins, who hosted the event, said it had been a "spectacular success".
He said: "In this 100th year anniversary of World War One it has never been more important to show our appreciation and gratitude to our armed forces for everything that they have done and continue to do for us."
The study found that 77% of people spoken to rated the event as "very good", and 99% said it was good for the Stirling area.
The parade of 1,600 serving military personnel and veterans was rated as one of the top attractions, alongside a display by the Red Arrows aerial display team.