Lady's Tree in Dunkeld named Scottish Tree of the Year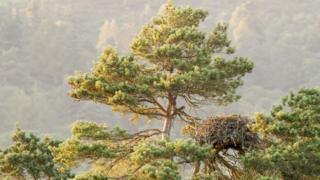 A 100-year-old Perthshire tree home to the world's oldest breeding osprey has been named Scottish Tree of the Year.
Lady's Tree at the Loch of the Lowes nature reserve near Dunkeld triumphed in a public vote against five other contenders.
The popular pine has hosted Lady the osprey for 24 years, and seen 71 eggs laid and 50 chicks hatched.
The Gowk Tree in Moffat came second, while the Clachan Oak in Balfron, Stirlingshire came third.
Lady's Tree was nominated by the Scottish Wildlife Trust, which runs the reserve at Loch of the Lowes.
The group's chief executive Jonny Hughes said he was "delighted" that the tree had won the "prestigious" award.
He said: "This iconic Scots pine at the Loch of the Lowes Visitor Centre and Reserve is very much part of a wider conservation strategy.
"Ospreys were extinct in Scotland, but through dedicated conservation efforts the population is thriving once again."
Lady's Tree will go on to compete against trees from 12 countries around the continent in European Tree of the Year 2015, organised by the Environmental Partnership Association.
The Woodland Trust Scotland ran the Scottish competition along with the People's Postcode Lottery, and director Carol Evans thanked all the finalists for their "heartfelt campaigns".
She said: "Each tree represent an important part of their natural heritage.
"Lady's Tree supports a wide range of life, from lichens and wood ants to red squirrels and of course a very famous osprey and it has been at the heart of a conservation success story for nearly quarter of a century.
"It's a very worthy winner, as a Scots pine it is Scotland's national tree and I hope that the nation will give it their vote in European Tree of the Year next February."