Second chance at Kirk moderator job for Dr Angus Morrison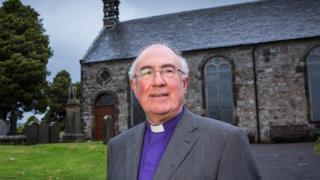 Dr Angus Morrison has again been chosen to lead the Church of Scotland, seven months after walking away from the job due to ill health.
Dr Morrison had been due to take up the position of moderator this year, but announced in March that he was unable to serve due to illness.
He was replaced in the role by Kirk principle clerk Rt Rev John Chalmers.
However, he has now recovered following surgery and has been nominated as moderator designate for 2015.
Dr Morrison, minister of Orwell and Portmoak Church in Milnathort, Perthshire, said it was a "great honour" to be nominated again, having become the first moderator designate in living memory to stand down.
'Difficult period'
He said: "I am thankful that a very good recovery, following surgery, has made it possible for me to accept the nomination.
"My wife and I are deeply appreciative of the support and prayers of so many across the Church during this recent difficult period."
Dr Morrison, who is married with four children, will take up the annual appointment at the Kirk's General Assembly next year.
The moderator chairs the general assembly of the Church of Scotland in Edinburgh each May, signing documents on its behalf and ruling on points of order.
The post is an honorary one, chosen by a committee of 15 members including previous moderators.