Little Sisters of the Poor to leave Dundee care home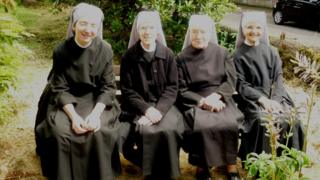 The Little Sisters of the Poor have announced they will be leaving Dundee in 2015 due to a lack of new nuns joining the order.
The existing members feel "unable to continue their mission" at the Wellburn Care Home, which they operate.
Negotiations to find a new operator for the care home are ongoing.
The Little Sisters of the Poor order has seen a 50% drop in worldwide members - from 4,000 to 2,000 - in the last 10 years.
There are only about eight nuns remaining in Dundee, of which only two are under 70 years of age.
If an alternative operator for the Wellburn Care Home is not found by the beginning of 2015, the residents will be rehoused.
Continuity of care
The provincial of the order said the decision had been made with "great sadness and regret".
Sister Joseph added: "This has been a very painful decision for us, but due to a decrease in the number of vocations to the congregation and the age of the sisters, they now feel that they are unable to continue their mission here.
"The Little Sisters have been in Dundee since 1863 and last year celebrated 150 years of service to the elderly in the city, in the footsteps of their foundress St Jeanne Jugan."
Various parties are involved in negotiations over the future of the home and "every effort" is being made by the sisters to ensure continuity of care.
Bishop Stephen Robson said: "While I am saddened by this decision, I understand completely the challenges which the sisters face and sympathise with the circumstances they find themselves in.
"I have always had and continue to have the highest regard for the Little Sisters of the Poor and the work that they do. They have made an immeasurable contribution to the life of the City of Dundee over the past 150 years.
"I share their hope that the Wellburn Care Home will continue to providing much needed care to some of the most vulnerable elderly people in our community."