Number of people in work in Dundee falls by 11%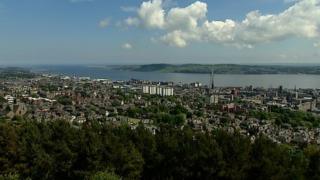 The number of people in work in Dundee has dropped more than 11% in two years.
A report to the city council stated that 58,100 people of working age were in employment through the 2013/14 year, a fall of 7,400 compared to the 65,500 recorded in 2011/12.
The authority has targeted having a further 10,000 people in work by 2017.
Chief executive David Dorward, who is to retire next month, said a "new economic development strategy" would be deployed to target employment growth.
The council is to target the renewable energy sector in particular to create jobs. Mr Dorward said funding packages were being negotiated and consent had been given for wind farms close to Dundee.
The figures were revealed in the Council Plan 2012-2017 review, which will be presented to councillors on Monday.