Perthshire golf tourism marketing drive after Ryder Cup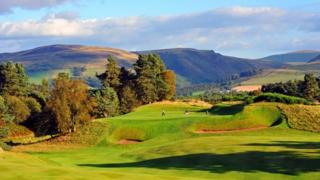 A new marketing drive has been launched to help Perthshire capitalise on hosting the 2014 Ryder Cup at Gleneagles.
VisitScotland has chipped in £15,000 to a group of local golf businesses which hope to drive home Scotland's reputation as the "home of golf".
The investment is part of a year-long £31,000 marketing campaign, which aims to attract an extra 1,500 golfers.
Golf tourism is estimated to be worth £12.8m to the area.
Golf Perthshire is a group of more than 40 clubs and accommodation venues, which is using the £15,000 from VisitScotland's growth fund and money from Perth and Kinross Council to market packages to golf fans in the UK and key markets abroad, such as Sweden and Germany.
Malcolm Roughead, chief executive of VisitScotland, said it was important to look to the "legacy" of hosting "one of the world's biggest sporting events".
He said: "From its majestic glens to its championship golf courses and ancient forests, there's no denying that Perthshire, and indeed Scotland, delivered an incredible week of golf on the world's stage.
"With more than 250,000 spectators and a global television reach of more than half a billion homes, we need to convert these new Scotland fans into visitors and returning visitors to the country."
Allan Minto, golf project manager at Golf Perthshire, added that there was "huge untapped potential" for the sport in the area.
He said: "People are really starting to sit up and take notice of Perthshire, which is home to some of the oldest and most prestigious golf courses in Scotland."
In total golf tourism attracts 220,000 people to Scotland and is worth £220m a year, supporting 4,400 jobs.
Tourism bosses estimate hosting the Ryder Cup was worth £40m in direct marketing benefit for Scotland.