Government to rule on coal bed methane drilling plan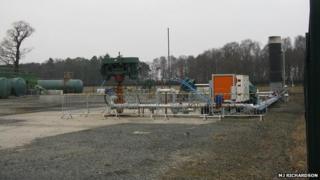 The Scottish government has taken over the decision on two planning appeals for the production of coal bed methane.
Dart Energy had applied to Falkirk and Stirling councils for permission to drill at 14 sites in Airth and the Forth Valley.
The firm then called on the government to make the ruling instead of the local authorities.
Planning Minister Derek Mackay said the plans were of "national interest" and needed further scrutiny.
Thousands of objections had been sent in to the councils from local residents and green campaigners over the plans.
No hydraulic fracturing or "fracking" would be involved in the coal bed methane gas extraction, but environmental campaigners claim it carries risks similar to those they attribute to fracking.
'National interest'
The proposal, over an area straddling the Falkirk and Stirling council boundary, would see 22 wells drilled and a gas delivery and water treatment facility built along with associated infrastructure.
Mr Mackay said the decision to recall the planning appeals was "in line with the government's cautious, considered and evidence-based approach to unconventional oil and gas extraction in Scotland".
He said: "Ministers have recalled Dart Energy's planning appeal for the proposed development of coal bed methane production at a number of sites in central Scotland.
"The decision has been taken in light of the considerable public interest in the proposals, as well as its relevance to the implementation of the new recently updated Scottish planning policy.
"Scottish Ministers therefore believe there is a national interest that would be best served by further scrutiny of these proposals."