Oor Wullie website to help teach Scots to school pupils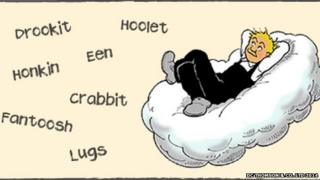 Comic character Oor Wullie is to help children learn Scots as part of a new scheme by the National Library of Scotland.
The library has launched the "Oor Wullie's guide tae Scots language" website aimed at primary schools.
Wullie, the creation of Dundee publishing firm DC Thomson, has been appearing weekly in the Sunday Post newspaper since 1936.
His pals Wee Eck, Fat Boab and even PC Murdoch also appear on the site.
The website includes a range of activities to help children become more familiar with Scots words - including quizzes, word searches, flash cards and a tool to design their own comic.
Previous generations were often discouraged from using Scots language in the classroom, but the website has been designed to fit in with the Curriculum for Excellence.
'Brilliantly descriptive'
Dr Alasdair Allan, minister for Scotland's languages, said that as a boyhood fan of Oor Wullie he was "delighted" to launch the website.
He said: "Scots is a fantastic language with brilliantly descriptive words like driech, slitter or wheesht.
"Each of these may have a comparable word in other languages, but translations just don't capture how expressive and illustrative the original Scots is.
"The last census showed an incredible 1.5 million people have some knowledge of Scots or uses it regularly which is a wonderful achievement when you consider that many people from previous generations were discouraged from using it."
Oor Wullie editor Morris Heggie added: "The Scots language is an important part of Scottish culture and it has been a pleasure working with the National Library of Scotland on this project.
"Oor Wullie has been fair thrilled at the response from school children and everyone involved with the strip is rooting for the project to be a huge success."
The website was developed with help from teachers and pupils at a number of schools, the Scots Language Centre, the Scottish Language Dictionaries, the National Trust for Scotland and the Robert Burns Birthplace Museum.