Teenager threatened massacre at Falkirk high school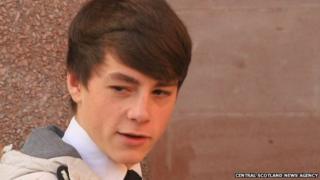 A teenager angry with his teachers threatened to carry out a massacre at a high school in Falkirk.
Andrew Ferguson posted messages online saying he would "run into St Mungo's with a blade", and also made threats against teachers and their families.
A sheriff told the 17-year-old his Twitter messages, posted in June 2013, would have provoked "panic, distress and anxiety".
He was sentenced to 240 hours of unpaid work and a year of supervision.
Ferguson, of Camelon, admitted posting the messages shortly after a meeting with his parents and teachers to discuss his future.
He had been unable to sit any Higher exams at the end of his fifth year at St Mungo's High School as he had not completed any coursework.
'Off the rails'
One tweet posted by the teenager read: "If I become homeless I can see myself running into St Mungo's with a blade and massacring every child I pass."
Another tweet targeted the Roman Catholic school's deputy headmaster, James Murphy, saying "I genuinely hope all his family die in a brutal bloody massacre".
And a third tweet referring to the school's pastoral head, Ann-Marie Jess, also contained a threat of violence.
Defending, solicitor-advocate Martin Morrow told Falkirk Sheriff Court that Ferguson had "gone off the rails" in his fifth year at secondary after previously passing through school without incident.
"It was never his intention at all that his comments would reach the attention of his teachers," he said.
"Obviously the words are cold on paper. They are clearly threatening."
'Utterly unacceptable'
Sheriff William Gallacher said the posts were "horrific" because they "could not be divorced" in people's minds from real-life school massacres, like that little more than 20 miles away at Dunblane Primary School.
He also said it was "blindingly obvious" that the tweets would be widely read.
He said: "From time to time, there are cases that provoke silence in the court. This was one.
"You have brought disgrace on yourself and you have affected your family to an extent that is utterly unacceptable in a man of your age.
"Anyone reading what you posted would have been distressed, alarmed and horrified."