Ineos buys Grangemouth gas power plant in £54m deal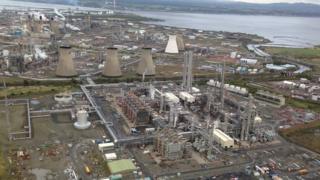 Petrochemical firm Ineos has agreed to buy the power plant which supplies its Grangemouth industrial site for £54m.
The gas-fired heat and power plant, which already supplies the Ineos refinery in the Forth Valley town, is being bought from Finnish energy company Fortum.
Ineos is currently building a new £300m ethane gas import and storage facility at Grangemouth.
The firm said this "additional investment" would support that project.
Ineos Olefins and Polymers UK CEO John McNally said the investments "demonstrate what is possible at Grangemouth".
He said: "These investments represent another key milestone in creating a successful future for the site and those businesses that depend upon its continued presence in Scotland."
Commissioned in 2001, the plant generates 145 megawatts of power and 257 megawatts of heat, providing electricity and steam to the site's petrochemical operations and selling excess electricity to the national grid.
Fortum will continue to provide operations and maintenance services at the plant.
Sasu Valkamo, vice president of Fortum's nuclear and thermal power division, said the plant was a "highly efficient and modern" facility.
"As Ineos has a long-term plan to develop the Grangemouth site, this was a good opportunity for both companies," he said.
Ineos has also recently bought the licence for shale gas exploration and development for 329 square kilometres around Grangemouth.