Perth memorial to be held for aid worker David Haines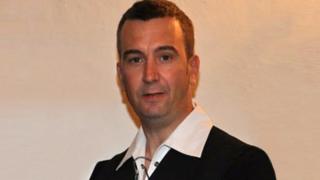 A memorial service is to be held for David Haines, a British aid worker who was killed by Islamist militants in Syria.
Mr Haines was killed by the Islamic State (IS)group after spending over a year as a hostage.
A memorial service is to be held in Perth, where the 44-year-old grew up.
His family said the event on 18 October would be a celebration of his life, and asked for well-wishers to donate to the charity Hostage UK in lieu of flowers.
Born in Yorkshire and raised in Perth, Mr Haines was working for French aid agency Acted when he was kidnapped in Syria in March 2013.
Aid work
Mr Haines had previously done relief work in post-war Croatia, where he eventually settled with his second wife and four-year-old daughter, as well as working in Libya and South Sudan.
Primer Minister David Cameron condemned his death as an "act of pure evil", and his 17-year-old daughter Bethany called for IS to be "eradicated". Parliament has since sanctioned air strikes by the Royal Air Force against the group in Iraq.
The memorial service is to be held at Perth Congregational Church on 18 October.
Mr Haines' family appealed for family and friends to be given priority over well-wishers, and asked for those attending to wear brightly-coloured clothing.
They also said that any serving or former Armed Forces personnel attending should wear their berets in recognition of Mr Haines' service in the RAF.