New £26m medical research centre unveiled in Dundee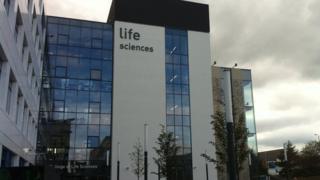 A new £26m medical research centre is to be opened in Dundee.
The Discovery Centre at the University of Dundee will be home to researchers supported by more than £31m of research grants and will create 180 new jobs.
The facility is being opened by Nobel Prize winner Sir Paul Nurse, president of the Royal Society of London.
The university's college of life sciences already boasts 900 scientists, research students and support staff from 61 countries.
Prof Michael Ferguson, regius professor of life sciences at Dundee University, said the "major new facility" would "significantly boost Scotland's biomedical centre" and have an impact around the globe.
He said: "The centre will further develop our already very strong drug discovery programmes in neglected tropical diseases and in other areas of unmet medical need, such as cancer, inflammation and eczema."
The Discovery Centre attracted funding from a large number of public, private and charity sources, including a £5m peer-reviewed Wellcome-Wolfson Capital Award in Biomedical Science, which was matched by the university, and a £12m award through the UK Research Partnership Investment Fund.
Sir Paul said he was "delighted" to open the new centre.
He said: "Life sciences research in Dundee has an international reputation and this new centre provides exciting opportunities to bring different disciplines together, each bringing expertise to bear on aspects of larger problems relating to biology, drug discovery and drug design."