Helix parkland project wins National Lottery award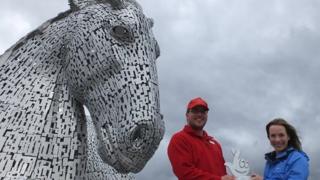 Falkirk's Helix parkland project has won the title of Best Environment Project at the 2014 National Lottery Awards.
The Lottery contributed £25m towards the £41m project, which includes the giant Kelpies horse-head statues.
The Helix has seen 300 hectares of land "completely transformed" with improved pathways and woodlands and a canal extension.
The winners of the UK-wide awards were decided by a public vote.
Andrew Thin, chairman of Scottish Canals, said the Helix project had had a massive impact on the local area since opening last year.
He said: "The landscape between Falkirk and Grangemouth has been completely transformed by this project - we now had an incredible green space for everyone to use and enjoy.
"The community's response to this project has been overwhelmingly positive - it's due to that support that we've won this award."
The Helix, which attracted 15,000 visitors within two months of the Kelpies opening this summer, was also honoured at the Green Apple Environment Awards last month.
The National Lottery Stars 2014 event was hosted by John Barrowman and Laura Main and televised on BBC One Scotland.
Other winners included a chandelier made out of 3,000 single lost earrings which is now touring England, which won Best Arts Project; the renovation of St George's Market, a historic indoor market in Belfast, which won Best Heritage Project; and Skydancer, a Royal Society for the Protection of Birds project to promote the conservation of hen harriers, which was named Best Education Project.
Each winner was given a prize of £2,000 to spend on their project.