Tayside and Central split as Dundee alone votes 'Yes'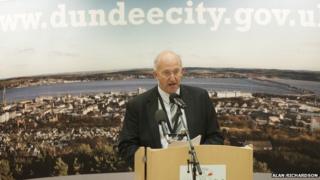 Tayside was split in the Scottish independence referendum as Dundee voted "Yes", while the rest of the region backed remaining in the United Kingdom.
Dundee City was the first council area in the country to declare a "Yes" result by a margin of more than 13,000.
Angus, Perth and Kinross, Stirling and Clackmannanshire all recorded a majority for "No".
Turnout was more than 78% in all areas, with 90% of registered voters in Stirling coming out to vote.
---
Philip Sim
Tayside and Central reporter
They spiked the fountains with bubble bath in anticipation of a party in what was dubbed Scotland's "Yes city", but this morning only a hardy few supporters of Scottish independence remained in Dundee's City Square.
Yes supporters passing by described the result as "rubbish", "depressing", and even "a dark day for Scotland", although many say they are proud to belong to a city that backed independence with a strong majority of 13,000.
A few days ago it was impossible to leave the square without a leaflet or a flyer from one campaign or the other, often from the canvassers buzzing around the Yes Scotland stall which had become a near-permanent installation.
And while there's still the odd "Yes" badge in evidence, today the dreary weather reflects the flat feelings of many of the city's people.
There's little jubilation on show from "No" voters either, with people on both sides saying they just want to move on and see what additional powers might be transferred north from Westminster.
One man told how he voted "No" because he's lived in the United Kingdom for 80 years and feels safer that way - but immediately spoke passionately about wanting Scotland to take more control over taxes and income from the oil industry.
Turnout at recent elections in Dundee had threatened to fall below 50%, but it skyrocketed to more than 78% for the referendum - it's clear there's a reborn hunger for politics in the city.
Negotiations over the future of Scottish devolution will be keenly watched from Tayside.
---
Clackmannanshire was the first area in Scotland to return a result after the polls closed, with 54% of people voting "No" compared to 46% "Yes".
There were strong wins for "No" in Stirling and Perth and Kinross, which both voted 60% "No" to 40% "Yes".
"No" won 56% of the votes in Angus, compared to 44% for "Yes".
"Yes" won in Dundee by a clear margin of 57% to 43%, with a turnout of 78%.
Prominent "Yes" supporter Brian Cox, who had campaigned particularly hard in his native Dundee, said he was proud of Scots despite the result.
"It's been the most extraordinary two weeks," he said.
"I've loved it, I am so proud of our country.
"People have shown that social democracy really works and it's a triumph as far as that's concerned."