Tourism boost as golf's Ryder Cup arrives at Gleneagles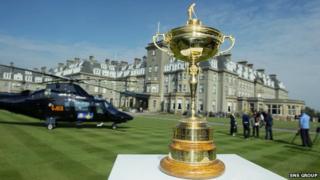 Hosting golf's Ryder Cup at Gleneagles could net Scotland more than £80m, tourism chiefs hope.
The trophy has arrived in Perthshire by helicopter ahead of this month's tournament after a tour of the country.
Thousands of fans have bought tickets and VisitScotland say hosting the event will have a major economic impact on the area.
Top players from Europe and the USA will face off in the competition from 26 September.
Stands capable of holding more than 15,000 spectators have been erected on the golf course, while tents and marquees covering 30,000 square metres have been put up to accommodate the tournament.
And a concert featuring Amy McDonald, Midge Ure and the Royal Scottish National Orchestra at the Glasgow Hydro will open the tournament.
Economic impact
VisitScotland chief executive Malcolm Roughead said the tournament was a "great opportunity for Scotland to stay in the limelight".
He said: "In terms of economic impact, we've looked at previous Ryder Cups in Ireland and Wales and I believe the figure in Wales was about £82.5m, and we're confident that we will generate more.
"You can't buy the type of publicity Scotland has had this year, so in terms of positioning us on the global stage and making it an attractive place for people to come, you couldn't ask for more."
Tournament organisers have drafted in their own meteorologist and are hopeful of good weather for the competition, but say they "have contingencies in place" for any enforced delays.
Gleneagles managing director Patrick Elsmie, said the scale of preparations was similar to those when the Gleneagles Hotel hosted a summit of the G8 in 2005.
He said: "Everyone has been looking forward to this since it was awarded to us nearly 13 years ago, so for those of us who have been around that long clearly it's a fulfilling time."