Woman sues Dundee Sikh temple over kitchen explosion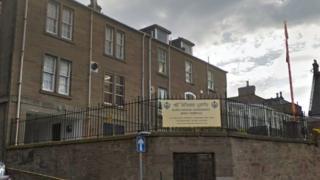 A woman is suing a Sikh temple in Dundee after she lost part of her leg in a kitchen explosion.
Kuljit Bahia suffered severe injuries in the explosion, thought to have been caused by a pressure cooker, at the Sri Guru Nanak Gurdwara temple in 2011.
The 54-year-old is claiming for damages against "the Sikh community of Dundee" as well as members of the Nelson Street temple's operating committee.
A civil action has been lodged at the Court of Session.
Police and firefighters were called to the temple following the blast on 9 October 2011.
Mrs Bahia and another woman, who had been working in the kitchen at the time, were taken to Ninewells Hospital.
Police concluded that there were no suspicious circumstances surrounding the incident.