BAM Construction chosen to build Dundee's V&A museum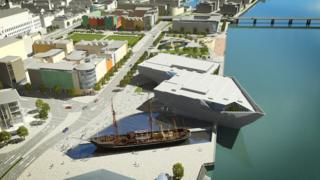 BAM Construction has been named as the preferred bidder to build the V&A Dundee museum despite a row over claims it took part in blacklisting.
The firm won the preferred bidder status after a meeting of the city council's policy and resources committee saw objections raised by unions and opposition councillors.
More detailed talks will now take place between the local authority and BAM.
The firm "categorically" denies having taken part in blacklisting in Scotland.
However, a spokesman did confirm that the company had used the referral services of The Consulting Association - the company which was caught in 2009 holding a blacklist of more than 3,000 mainly building workers - "to a very limited degree" in other parts of the UK.
Richard McCready of the opposition Labour group on the council called the selection of BAM for the V&A project a "moral issue", citing allegations that the company had been involved with TCA as recently as 2009.
Members of Dundee's Trades Union Congress handed out leaflets criticising the company before the meeting, and Steve Murphy, general secretary of the Ucatt building workers' union, said blacklisting firms should be banned from public contracts until they had "fairly compensated the workers whose lives they ruined".
A spokesman for BAM insisted that the firm had ceased all ties with TCA in 1998 after the UK Data Protection Act was passed.
He added: "The company has accounted for this, apologised, put appropriate training and procedures and training in place to prevent any such occurrence in the future, and has given a public commitment to compensate fairly anyone who can show they have suffered any detriment because of BAM's historical involvement with TCA."
A motion proposed by Mr McCready to "not agree" with the appointment of BAM as preferred contractor was rejected by councillors.
Detailed discussions will now take place between the local authority and the builder to fix a construction cost for the project, originally estimated at £45m.
The museum, the V&A's first permanent branch outside its London home, is the centrepiece of a £1bn redevelopment of Dundee's waterfront, which is projected to attract thousands of jobs, hundreds of thousands of tourists and millions of pounds of investment to the city.