Scotland's historic Rocky Mountain links celebrated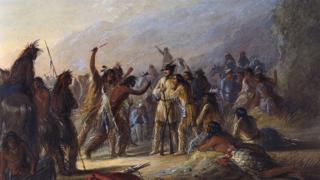 American Indian tribesmen and Rocky mountain fur trappers are set to meet up in Perthshire to commemorate links dating back to 1830.
A US museum has sponsored a visit by tribal members from the Wind River Shoshone along with living history re-enactors and leading academics.
Murthly Castle will host a number of events through the weekend.
Sir William Drummond Stewart, the seventh Baronet of Murthly, was a Rocky mountain pioneer in the 1830s.
After spending time as a trapper in the mountain beaver trade, the adventurer brought buffalo and a pair of American Indians back to the family estate in Perthshire in the 1840s.
The Museum of the Mountain Man in Pinedale, Wyoming hosts an annual Rocky Mountain Rendezvous, and this year is taking the show on the road around the UK and Ireland, with the first event planned for Perthshire.
Academics and museum professionals from Scotland and the USA will convene at Murthly Castle for the Rocky Mountain Fur Trade Forum on Saturday to discuss Scotland's involvement in the fur trade and American expansion westwards in the 1820s and 1830s.
For two consecutive nights at the Birnam Centre, actors will recreate the paintings of Alfred Jacob Miller, an American painter who travelled with Sir William and captured events including an original Rocky Mountain Rendezvous traders meeting.
Musicians including Dougie MacLean, Pete Clark and Hannah Fisher will perform during the "living pictures" show on Friday and Saturday.
And the weekend will be rounded off by an open day at Murthly Castle on Sunday featuring a living history encampment, with talks and demonstrations by the American Mountain Men, Wind River Shoshone tribal members and music, culture and dance.