Woman, 75, caused dozens of animals to suffer at farm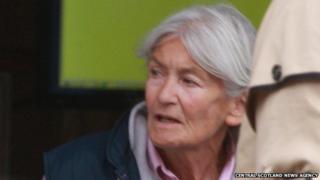 A 75-year-old woman has been found guilty of mistreating dozens of animals at a Stirlingshire farm.
Ann Wynd was convicted of 29 charges of causing unnecessary suffering to animals, including 19 dogs, two donkeys, two goats, a sheep, three Shetland ponies and a Welsh cob horse.
Scottish SPCA officers found dogs in cages stacked in the house, which was crusted with filth inches thick, and several starving animals had to be put down.
Sentence was deferred to 25 September.
The situation came to light in November 2012 after police went to Windyrigg Farm, near Standburn, following the sudden death of Wynd's husband.
Scottish SPCA inspector Nicola Liddell, who was called to the property, told Falkirk Sheriff Court the smell at the house was "overpowering".
'So unhygienic'
"I was immediately shocked as to what I was seeing," she said.
"We had concerns for Mrs Wynd because it was so unhygienic. All the surfaces were piled up with food bowls, food utensils, old clothing, newspapers - it was piled high."
Inspectors initially thought one of the dogs was dead, it was so emaciated.
"There was no muscle or fat on him and all his bones were quite visible," said Mrs Liddell.
"He had open weeping sores all over his body."
Another dog was found to be unable to move his rear legs due to muscle wastage, thought to be caused by malnutrition, and was described by a vet as "almost paraplegic".
Both dogs had to be put down.
'Almost distressing'
More dogs were found in "filthy" and dark conditions in sheds outside the house, along with a donkey which appeared "nearly emaciated" and was struggling to stand, and a horse which appeared "very thin".
The Welsh cob horse was ruled to be "clinically emaciated" by a vet and had to be put down, while the sheep was "extremely uncomfortable and suffering".
Wynd, now of Falkirk, denied the charges and defended herself throughout a three-day trial, telling the sheriff: "They've got my animals mixed up. There are things that are not true."
Sheriff Derek O'Carroll found Wynd guilty of 29 charges of causing unnecessary suffering, with sentencing due on 25 September.
Mrs Liddell added: "It was very sad and almost distressing for myself to see that humans had chosen to live in a highly unsuitable environment for their own health - but that was their choice.
"These animals couldn't choose the conditions they lived in."