First male champion crowned at World Jampionships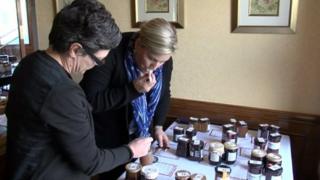 A Dundee man has been announced as the first male winner of the World Jampionships jam-making contest.
Andrew Cameron is also the first Scot to win the annual World Jampion crown, after two days of judging in Arbroath.
More than 500 entries were submitted for the 2014 competition, from jam-makers as far afield as South Korea, the USA, Spain and the Czech Republic.
Mr Cameron will receive his prize at the Dundee Flower and Food Festival at the weekend.
Fife company Craigallan Jams of Cupar won the Artisan Jam Maker title for their Tutti Frutti jam.
Tracey Baxter, World Jampionship founder and organiser, said judges had been "staggered by the sheer quantity of entries".
She said: "Luckily the quality has been superb too, and we never tire of jam.
"With entries coming from across the world, it's clear that jam has worldwide appeal and never goes out of fashion.
"We've received entries from young children, men in their 80s and women across the world.
"It just goes to show that jam is something everyone can make and we're determined to encourage everyone to develop their preserving skills."
Judges came from across Britain to taste each of the 550 jams and jellies submitted, with flavours ranging from the traditional strawberry, raspberry and blackcurrant to more experimental combinations including sour cherry and herring liqueur, spiced rum, banana and ginger.